Game History
There isn't a complete history of this LARP, which is unfortunate, because it was my very first. Part of the reason for this is because once I knew the LARP was successful, I sold it to a few other people who'd heard about it and wanted to run a murder mystery of their own. I didn't make a lot of money at it, but it did pay for dot matrix printer ribbons and paper. It probably ran at least half a dozen more times than listed here, possibly more.
What follows are the details of the runs I organized and ran.
December 1986, Tyngsborough, Massachusetts
The details on how this LARP came to be are in the credits. This was my very first LARP, as an author and a player. My then-wife and I cajoled a bunch of our friends to try this murder mystery thing out. None of us had done anything like it before. Sure, a lot of us were experienced table-top players, but there was no table. In the only example I knew of, the GMs played parts along with everyone else, so that's what we did.
Two of the friends I recruited were Charlie McCutcheon and Tim Lasko. We're still at this together.
The game worked remarkably well. Everyone was excited about it, and they told their friends.
It's also important to note that one of the characters in the LARP is pregnant. In the first and second runs, this was played by my pregnant then-wife. The part of the unborn child was played by my soon-to-be daughter Julie.
Early 1987, Billerica, Massachusetts
Word of mouth got around. Other people asked if they could play. Given the time and effort in writing the LARP, it seemed silly not to rerun it if we had enough people. So we did - and then they told their friends about it.
By this time, I was talking about the LARP on Usenet and the LARP news groups out there. People asked, so I wrote all the GM materials and began selling the game.
March 1988, forgotten location, Massachusetts
Word of mouth continued to spread. I'd already written and run a second LARP, but there were still calls to run this game.
I was absolutely amazed to find out that the band (played by Dennis Raynor, Joe Aquino, and Steve McMillan) were actual musicians. They wrote and perfomed Hormones On Parade live, during the game. I was on the floor, because they just nailed it. They'd taken my silly title and turned it into something real and more like Toxic Waste then I'd ever imagined. This is one of the absolute highlights of my LARP writing career.
July 1997, Champaign(?), Illinois
I'd been to my first Intercon in March 1996, and had actually met Gail and Dig Freedman in person. They'd met during a run of The Treaty of Berlin I'd sold to Gail, and that started a whole lot of things. They wanted to play my other games, so I came out to Illinois to run this LARP for them.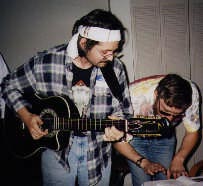 The bent-over drummer in the tie-dyed shirt is yours truly.
April 9th, 2011, Waltham, Massachusetts (LARPercalia - Festival of LARPs at Brandeis)
When Phoebe Roberts was soliciting LARPs for Festival, The team from TNT Productions looked over our combined list of LARPs. Despite their long history with TNT and LARPing with me, Susan Giusto and Barry Tannenbaum had never played Sex, Drugs and Rock & Roll.
LARPing has changed since I first wrote and ran the game. I knew it was a solid game, but how well had it aged? After all, the game was set in the current day when it first ran. Now it was a period piece. This was, after all, the game's 25th anniversary.
We bid it, it was accepted, and we got some really good players to sign up. I made practically no content changes to the text; what ran at Brandeis was essentially identical to the initial 1986 run of the LARP. (I did convert the text from an ancient word processing format into HTML for continued portability.) It rocked, as it always has. We even had some players say it was one of the best LARPs they'd ever played.
April 2nd, 2016, Waltham, Massachusetts (Festiväl of LARPs at Brandeis)
Festiväl 2016 has a theme of "It goes to XI." Because I'd written Sex, Drugs, and Rock & Roll, I'd started a career in LARP-writing, running, and playing. It took me to my first Intercon - Intercon XI. That led to my chairing of Intercon the Thirteenth, the first of the modern Boston Intercons. Brandeis, with a rich tradition of LARPing, patterned their first Festival on Intercon. Fast forward to today, when we've just run our nineteenth Intercon and the eleventh Festival was looking for bids. Sex, Drugs, and Rock & Roll seemed a natural fit to all of this, so here we are again, singing Hormones on Parade.
The game rocked, a body dropped (while the soundtrack was playing (I Just) Died in Your Arms), the investigator and the characters fingered the wrong person (as usual), and people had a blast going back to the 80s. Once again, the game was essentially identical to the 1986 version, so this was the 30th anniversary running, where the LARP was older than most of its players. My now-adult daughter Julie was one of them.